Since the release of the first Iron Man movie, he has quickly become a Halloween favorite. And with ANY of these Iron Man Costumes you will Rule.
Iron Man 2 Light-Up Child Costume: 
Iron Man just keeps improving himself… And so do the Iron Man Costumes!
This all-new Iron Man costume includes a chiseled Iron man suit featuring muscled torso and arms, attached light up arc reactor and 3 batteries. A matching mask is also included in this superhero style.
Iron Man 2 Adult DELUXE Costume: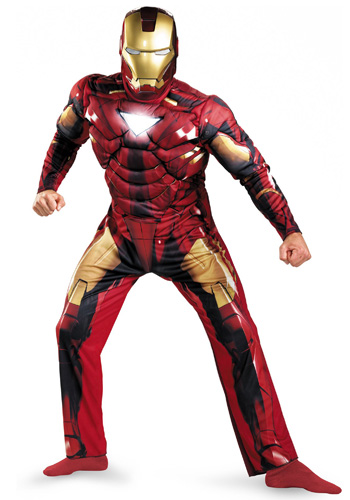 All the other "Iron Men" at the party will have a sudden inferior complex when you stomp in wearing this stellar Iron Man 2 Costume.

Iron Man Mark 6 Super Deluxe Adult Costume includes a top quality full jumpsuit complete with enclosed hands and shoe covers, molded shoulder pieces, chest piece featuring a light up arch reactor, thigh pieces and a full character helmet. Get More Details
Iron Man 2 Black Widow Costume: 
You will literally knock their socks off wearing this Black Widow Costume…
Kick butt, take names and show them you're no helpless dame in this scintillating style which includes: A deep blue faux leather jumpsuit, 3-D wrist cuffs, and a black belt.
You'll be ready to feed Tony Stark to the sharks as the villain with a vengeance:
The Whiplash Costume evil engineer's includes: An armor style sculpted chest piece featuring faux studs, a glow reactor in the center and a pair of faux whips
Iron Man Facts:
When wealthy industrialist Tony Stark is forced to build an armored suit after a life-threatening incident, he ultimately decides to use its technology to fight against evil. Through his multinational corporation ― Stark Industries ― Tony has created many military weapons, some of which, along with other technological devices of his making, have been integrated into his suit, helping him fight crime.
Comments
comments